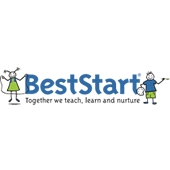 About BestStart Vivian Street
BestStart Vivian Street, formerly ABC New Plymouth, is a home-like centre located in the heart of New Plymouth, close to all central city amenities. We provide full day education and care for children across two learning spaces; Infants & Toddlers and Young Children. Our centre's foundation and philosophy is based upon "Valuing relationships that last" and is underpinned by our six values: love, respect, creativity, fairness, enthusiasm and honesty.
Community - Valuing our wider community and the relationships that evolve from engaging with local businesses, rest home facilities and local iwi through ongoing centre excursions to Puke Ariki, Heatherlea Rest Home, Parihaka Pa and Little Cubs Karate. These excursions benefit your child and their sense of belonging through meaningful learning experiences, providing links from home to centre environments.
Relationships - With meaningful relationships being the heart of our centre philosophy, teachers engage in reciprocal, collaborative learning – focused relationships with learners, families and whanau, allowing opportunities for open communication and respectful relationships to thrive. Responsive relationships, collaborative aspirations and achievements for your child are celebrated and valued. We enhance learning opportunities and experiences for all children within our inclusive curriculum based environment.
Cultural identity - Learner identity is affirmed and acknowledged through a multicultural approach to learning and assessment. Your child and their cultural identity is incorporated into an inclusive curriculum where teachers work closely together with families, whanau and the wider community to ensure all children and their well-being is promoted and valued.
Be School Ready - We support and prepare your child for the smooth transition from centre to primary school through the Be School Ready initiative incorporated throughout our centre curriculum. This provides the opportunity for teachers to build relationships with local primary teachers and schools and provides your child with an ongoing environment where their passion for learning is sustained, developing their social skills and enabling a positive, enjoyable transition.
ERO Rating: Well placed/He pai te tūnga.
SERVICES
Child Care Centre (Child Care Centre)
SERVICE EXTRAS
This service has not provided any vacancy details right now and has not specified how long the waiting period is. To add your child to the waitlist or enquire about vacancies you'll need to contact BestStart Vivian Street directly.
Fees
We don't have any fee details right now. To find out please contact BestStart Vivian Street directly.
Ratings
ERO Rating - Well placed/He pai te tūnga More
We don't have any ratings just yet
Communication with Parents
Environment & Facilities
Food Preparation & Nutrition
Health & Safety
Learning & Developmental Programs
Management Staff & Supervision
Value for Money
Warmth & Empathy towards children